D2D Bacteria filter systems
The filter system removes all water related pathogenic germs and bacteria like Legionella Pneumophila, Legionella spp., Escherichia coli (E-coli), Pseudomonas aeruginosa, Amoeba associated bacteria, Fungi, Mycobacterium, Vibrio cholera, Streptococci, Cryptosporidium. The automatic forward flushing system flushes all removed bacteria to drain.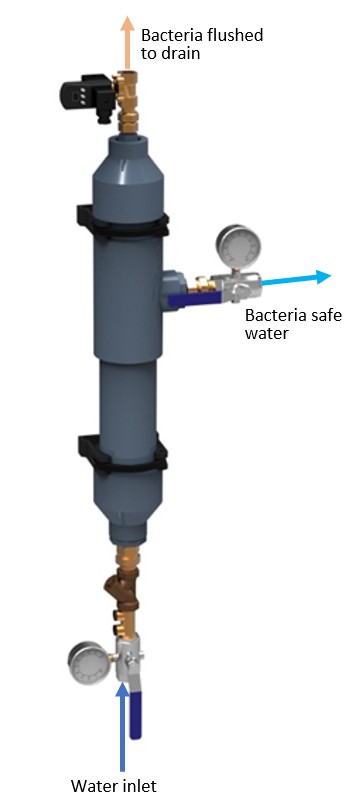 The filter systems are available in capacities of 5 to 83 l/min.
The system will be delivered as kit including:
Ultrafiltration element
2 clamps for wall mounting
2 Hand operated shut of valves
2 Manometers
Pre-filter
Non return valve
Technical specifications
| | |
| --- | --- |
| Type filtration | Ultrafiltration |
| Material housing | PVC-U |
| Material membranes | Polyethersulphone |
| Max watertemperature | 400C |
| Average pressure drop across filter | 0,8 tot1,2 bar |
| Min/max pressure | 2 to 6,5 bar |
| Poe size | 0,03 micron |
| Average filter lifetime | 3 to 5 years |
| Bacteria retention | 99,9999% (log 6) |
| Virus retention | 99,99% (log 4) |
| Cleaning method of filter | Automatic by means of forward flush |
| Cleaning period and frequence | Adjustable |
| Voltage | 230V AC |