From rainwater to drinking water
Drop2Drink unit - Drinking water from rainwater
Rainwater is an excellent water source which anyone can use. You just have to catch and capture it. Harvesting rainwater is beneficial because it reduces demand on existing drinking water supply. It can be used for nearly any purpose.
With the Drop2Drink unit you produce your own drinkwater. The intelligent treatment system ensures 100% microbiologically safe water. The rainwater is purified with a microfilter, active carbon filter, membrane filter (UF) and UV unit. All in one step.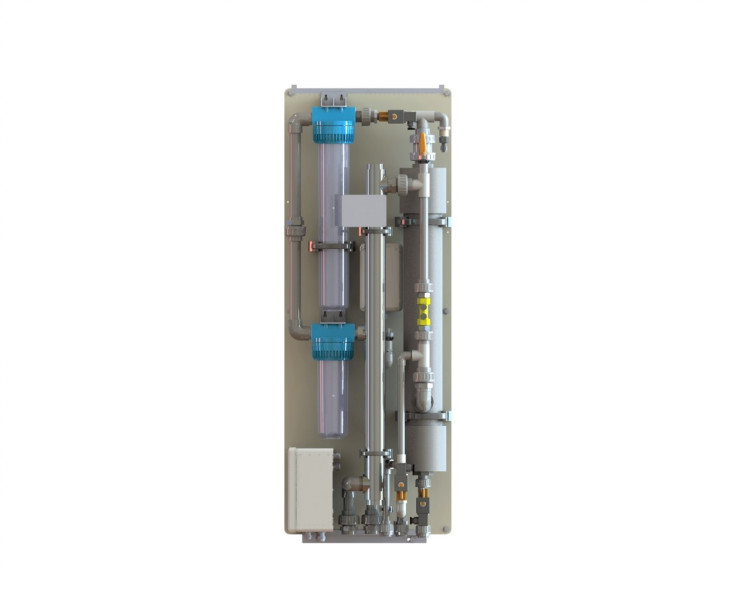 The membrane filter is selfcleaning and constantly monitors its own functioning. The quality of your water is therefor guaranteed. But a UV unit provides additional microbiological purification. That means double security.
Press at the flow simulation to see how it works.

Technical data Drop2Drink unit Excellent 20l/min
| | | | |
| --- | --- | --- | --- |
| Applications | Unsafe tap water | Power supply | 230 V Ac/50-60Hz |
| | Rainwater | Power consumption | 40W |
| Multistage filtration | Microfiltration at 50µ | Sizes | 1.200 x 550 x 450mm (H x W x D) |
| | Active carbon | Connections | In- and outlet: 1" |
| | Ultrafiltration at 0,01µ | | Waste water connections: 1/2" |
| | UVC-unit 30W | Empty weight | 29kg |
| Safety controls | Automatic forward and backward flush | Control device | Settings and monitoring |
| | Integrity check on membrane breakage | | Internet connection possible |
| Flow | 20 or 30 l/min (1,2 or 1,8 m³/h) | | USB port possible |
| Pressure | Minimum pressure 2,5 bar | | |
| | Maximum pressure 6 bar | | |
| | Pressure los 1,5 bar | | |
Benefits
Microbiologically safe water from rainwater
Daily integrity check on membranes
You can become independent and self-sufficient, run your entire household on rainwater
The unit is plug & play, easy to install, use and maintain